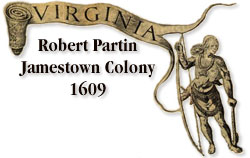 This web site is dedicated the decendents of
Robert Partin 1587/88
Robert Partin, was born around 1587 in the British Isles and came to this country in 1609 at around 21 years of age. He was 36 years old at the time of the 1624/5 Virginia Muster (census/survey) and was listed along with his wife, children and a servant. Margrett, Roberts wife, was also 36 years old. Avis is listed as child - age 5, Rebecca, is listed as daughter - age 2, and Robert, is listed as a son - age 4 months.
Thomas Hale, age 20, is listed as Partin servant.
The Muster also gives the dates of arrival and the ships that carried them. Robert arrived on the Blessinge from London in June of 1609, Margrett arrived on the George from London in 1617 and Thomas Hale arrived on the George from London in October of 1623.
The 1624/5 Muster, the first comprehensive census of 17th century Virgina, also included information on location, buildings, arms, food and livestock. Robert Partin owned a house located in West & Sherley Hundred, Corporation of Charles City, Virginia. In the Arms Records he is shown to have had 2 pounds of powder and 20 pounds of lead, a Snaphance (a type of fire-arm), and 4 pieces of armor. In the Food and Livestock category he is shown to have had 50 bushels of corn, 3 neat cattle, 1 swine, and 9 poultry. The Notes state - "Neat Cattell yong and old".
For more information on early Jamestown and the 1624/5 muster check out these web sites: Virtual Jamestown, and English America.
I recently received a letter from Ann Stacy about a scandalous event that impacted Robert Partin's family in Jamestown. Click here to read the letter.
Ron Partin's website has more information and sources.
New Message Board
Yahoo Groups Message Board for sharing information
Information page - see how you can help to this site a success.
This site founded on August 15, 2001
Web Design and Hosting provided by Pelican Web Services, a Parden Family Production.
Disclaimer: I have not personally verified any of the information listed on these pages. Please help me by sending in source information so that I can add them to this site. Email

Robert Partin, Sr. 1587/88
Robert Partin, Jr. 1623
Robert Partin, III 1655
William C. Partin 1710
Charles Partin, Sr. 1733
---
Brothers...
Charles Partin, Jr. 1775
Ezekiel S. Partin 1785

---
William Littleberry Partin 1803
Son of Charles, Jr.
Mission Statement: To define and preserve the relationships of the ancestors of Robert Partin, as well as documents, images, photos, stories, etc, which will be shared on this web site.


Descendents chart